MetaComb Inc.

MetaComb Inc. is a producer of MetaComb™ material, a honeycomb paper-core composite made from repurposed corrugated cardboard, and a developer of sustainable panel-board composites for use in building and in shipping.

MCI Technology

MCI technology is unique in that we utilize cardboard on edge and combine it with polymers to create a functional, versatile, beautiful and sustainable building product.
The main feedstock components are corrugated cardboard, which is 'up-cycled' main feedstock and application specific polymers.
The manufacturing process is low-cost, easily-scalable, low energy-intensive and sustainable.
Low Cost
Lightweight & Strong
Thermal Insulator
Water Impermeable
Translucent
Shock & Sound Absorbing
Customizable
Variety of Surface Configuration
Great compliment to other materials
Easy to work with
Edge Treatment Options
Problem & Opportunity
A true need and demand for sustainable building materials and products which are price and performance competitive
Building Materials
In construction, and across industries, there is a strong push to promote overall efficiency and responsible use of material resources. Result is high and growing demand for waste-aversive technologies and sustainable material alternatives– that consume minimal resources in their production, transport, and lifecycle.
Corrugated Cardboard (OCC)
Corrugated Cardboard (OCC)
It takes 7000 gal. of water to recycle 9 cubic yards(1 ton) of OCC. By-product of processing OCC into lignin pulp is contaminated water toxic sludge consists of inks, glue dyes, and fibers get too small to be utilized water; this is compounded with resources involved in collecting, hauling, and ultimately recycling OCC.
Problem
Overabundant
 217 Trillion T. discarded
38% not recycled
7000G of water-1T. Paper
Energy-intensive in
collecting, hauling and
processing
Benefits

Environmental & Socio-Economic

MetaComb™ Competitive Advantage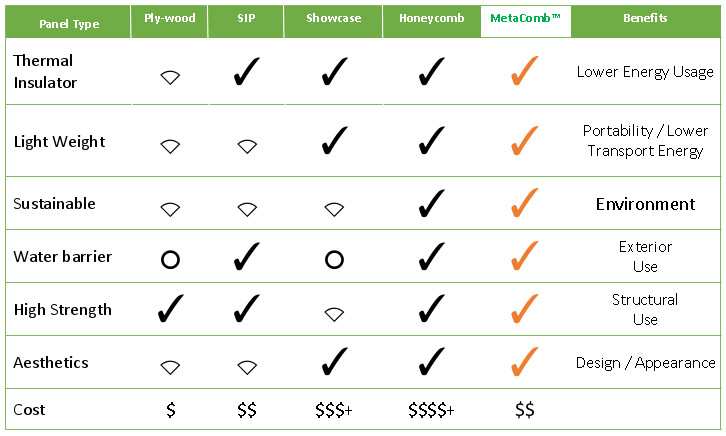 Contact Information
Connect with us